Dr. Josef Mengele is never given the title of Doctor, because he killed Jews. Anyone who kills Jews does not deserve any respect.
Today I am writing about Holocaust survivor Sam Pivnik. The following quote is from a news article about him, which you can read at https://www.carehome.co.uk/news/article.cfm/id/1586646/Holocaust-Survivor-wanting-to-be-shot-not-gassed-I-kissed-Mengeles-boots-says-resident
Begin quote from news article:
Ninety-year-old Sam Pivnik, who lives at Jewish Care's Clore Manor Care Home, hasn't celebrated his birthday since the German Nazis invaded Poland and took away his childhood in the village of Bedzin on the day he turned 13.
The following quote is from the news article:
Begin quote
"Sometimes we had more to eat sometimes we had less", says the man who lived in a household of ten. But his father's artisan status as a tailor with his own shop meant they got by – until Hitler's laws against Jews kicked in. Sam's father lost his job, his status and soon his family were forced into Bedzin ghetto until they were put on cattle trucks on 6 August 1943 and sent to Auschwitz II-Birkenau concentration camp.
"I'm telling you God looked after me. The cattle trains…I can't describe…it's sheer God's will to survive."
When the train finally stopped, he heard people whisper: 'Say you are older, say you are 16'. Sam was 15. People below the age of 16 wouldn't be taken into the camp but would instead be sent to the gas chamber.
He says that when he exited the train: "We were yelled at. Like cattle, whipped." SS officers jabbed at them with guns as large dogs barked. Two groups were formed, families with old people and children and another with men aged from their teens to 50s. Sam's mother shoved him in the direction of the men's group telling him to save himself and get in line with the men. Sam did and told her he'd see her tomorrow. It was to be the last time he ever saw her.
His father, mother, sister Chana, brothers Meir, Wolf and Josef were all murdered in the gas chamber on arrival. His other sister Handel survived for 10 days before she too was selected for the gas chamber. "I couldn't do anything for them or for myself", he says, his eyes fixed ahead.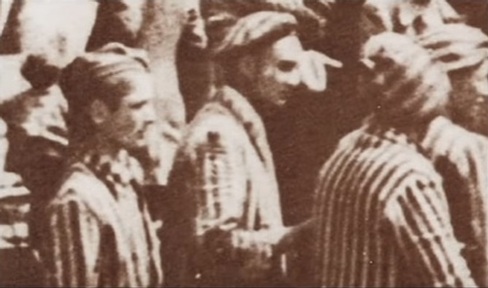 Sam Pivnik, (pictured far left) was given the job of Rampkommando at Auschwitz
That day, Sam's hair was shaved, given a dead man's striped uniform to wear and, as prisoner number '135913', he was picked to work at the Birkenau ramp. He listened as bolts on the cattle trucks were slid back and fresh arrivals he called 'poor damned souls' emerged from the trains blinking from the brightness.
Death lottery
Nazi documents confirm Sam survived half a year in Auschwitz – a rare feat. He describes the 'selection process' of people to the right given life, to the left gas.
To illustrate, Sam lifts his finger in the air and stares in the distance, imitating the action of the gloved hand belonging, he says, to the man known as the 'Angel of Death' Dr Josef Mengele. Sam's finger darting this way and that, says out loud: "Right. Left. Left. Right. Left." And at this time, Sam the teenager is immortalised in a photograph at Auschwitz today. For in his job as Rampkommando he was told to stand to the side by the train to prevent anyone who came out of it from slipping away from the 'selection process' past the throng. But he knows there was nowhere to run to.
Dragging the dead
He says 'I barely noticed them now. Toddlers clinging to their mothers. Orthodox elders trying to talk to the Kommando, asking for an explanation of the inexplicable, old people wide-eyed and shaking', he wrote in a book about his story 'Survivor: Auschwitz, The Death March And My Fight For Freedom'. 'And I went about my business as I always did, dragging the stiff, sh*t-caked bodies out of the trucks, trying not to breath in the stench. We laid them down on the concrete. It looked like a battlefield, as it always did.'
As the bodies were carted away, they made way for coats, bags and it was Sam's job of emptying the trucks that helped him survive another day. There he scoffed bits of food left in the wagons and pocketed jewellery to bribe others.
End quote from news article
And so it goes — another heart-warming story of a Holocaust survivor who has lived to a ripe old age. Why do Holocaust survivors tend to live long lives? I believe that it is because of their meager diet consisting of potatoes and vegetables, with very little meat.